Djibouti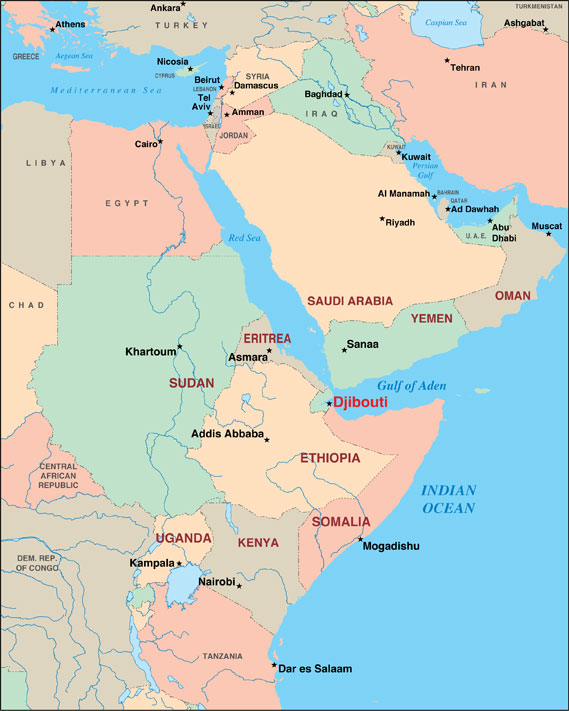 Camp Lemonier is a US Navy Forward Operating Site, and is home to Combined Joint Task Force - Horn of Africa (CJTF-HOA) of the United States Central Command. It sits at the entrance to the Red Sea in the small Muslim country of Djibouti, next to Somalia, and is a former military barracks of the French Foreign Legion. It was established in 2003 as the primary base in the region for the support of Operation Enduring Freedom - Horn of Africa.
The Djiboutian government allowed for the base's use by the United States, and it now serves as the location from which U.S. and Coalition forces are operating in the Horn of Africa. The agreement provides not only use of the camp, but the nearby airport and the port facilities as well.
The command provides de-mining and counter-terrorism efforts, but its main mission is bringing stability to northeastern Africa and addressing humanitarian needs. As one officer put it, ''our mission is 95 percent at least civil affairs." Humanitarian involvement, it is felt, will make everyone safer.
The command's areas of responsibility include the nations of Djibouti, Ethiopia, Eritrea, Kenya, Seychelles, Somalia, Sudan and Yemen. It is slated to come under the newly-established African Command, which on October 1, 2008 will assume control of ongoing U.S. military missions on the continent. There are reports that AFRICOM will eventually be headquarterd in Djibouti.
Camp Lemonier, the primary American military base in the region, is home to about 2,000 troops. It is being expanded from 97 acres to nearly 500 acres, as part of the process of moving the camp from an "expeditionary" base to a long-term facility. The Marine Corps was originally responsible for the base, but the Navy took it over in 2006.
There are still several thousand French troops stationed in Djibouoti, making it France's largest foreign military base. The American chow hall is called the Bob Hope Dining Facility, in recognition of the entertainer who traveled very extensively during World War II, Korea and Vietnam to boost the morale of the troops.
History of Djibouti
The history of Djibouti as recorded in poetry and songs of its nomadic people, goes back thousands of years to a time when Djiboutians traded hides and skins for the perfumes and spices of ancient Egypt, India, and China. Through close contacts with the Arabian peninsula for more than 1,000 years, the Somali and Afar tribes in this region became among the first on the African continent to accept Islam.
French interest developed in the nineteenth century when the area was ruled by the sultan of Raheita, Tadjoura and Gobaad. The French purchased the anchorage of Obock in 1862 and expanded it eventually to a colony called French Somaliland with essentially the current boundaries. In 1967 the area became the French overseas territory of the Afars and Issas.
The Republic of Djibouti gained its independence from France on June 27, 1977. Djibouti is an Islamic country which regularly takes part in Islamic affairs as well as Arab meetings.
(Source - Wikipedia)
FACILITIES AND SERVICES
Recreation
There's a football field-sized gym and basketball court.
Education Facilities
Representatives from Central Texas College and University of Maryland University College offer "face-to-face" college courses, support services and seminars in the library. UMUC flies instructors in to teach, while CTC uses local teachers. Both colleges are also seeking persons with an associate degree or higher to teach.
Medical Facilities
The Seth Michaud Emergency Medical and Dental Facility provides acute services to more than 1,800 personnel. It also provides emergency and limited elective surgical care. In support of the mission, it provides preventive medicine services, physical therapy, pharmacy, laboratory and radiological services. It is not equipped to provide specialty care. When servicemembers require more assistance they are seen at the Bouffard French military hospital in Djibouti.
Religious Activities
The interfaith chapel organizes trips for servicemembers to local orphanages so they can lend a helping hand to the orphans living there and spend their time doing something fun and worthwhile.
Clubs
The Cantina provides beverages, snacks, big screen TV via AFN, music played by volunteer disc jockeys, video games, foosball, darts, billiards and karaoke nights. Personnel can have three beers a night.
Housing
Djibouti is an unaccompanied tour. Most servicemembers live in CLUs (Containerized Living Units), called "clues," and sometimes "cans." They look something like a furnished semi-trailer or railroad car, 20 feet long, 8 feet wide and 8 feet high. They're air conditioned against Djibouti's searing heat, and equipped with beds, desks, lockers, sinks and shared toilets and showers. Rodents and mosquitos have trouble getting into them. E-6s and below share a clue with a buddy. E-7s and above get single units.
Shopping
The Navy Exchange carries a variety of items including DVDs, CDs, video games and consoles, TVs, laptop computers, cameras, sunglasses, name brand clothing for men and women, personal care items and fitness supplements. It also has a barber/beauty shop, gift shop and tailor shop. Also on base is a Burger King and Green Bean Coffee House. It uses POGs, lightweight paper discs, instead of coins in 5,10 and 25-cent denominations. The NEX in Bahrain has a distribution center on base, so if something is needed urgently it's just a phone call away.

Car Sales

Pre-owned cars, locations in Germany and Italy
Car/Vehicle Insurance

Insurance for US Military, BFG and other NATO forces
DoD Contractors/
ID Card Holders - Business & Employment Advice

Business consulting for DOD contractors and ID card holders
Pet Shipping

Pet Transport and Relocation Experts
Getting Married in Denmark

Marry Abroad Simply
Living in Germany

A Guide to Living and Working in Germany