Patriot Military Automobiles (PMA)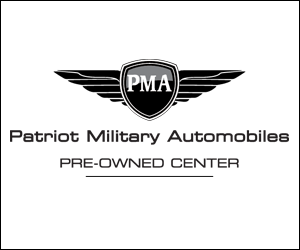 Patriot Military Automobiles (PMA) was formed out of a desire to provide all US personnel stationed overseas, whether diplomatic, military or civilian a second to none service in providing an outstanding opportunity to purchase a tax free, US spec, EU spec or certified pre-owned vehicle. To this end PMA is now the No.1 pre-owned auto service to US Service members in both Germany and Italy. Patriot's founders have over 50 years of combined experience supporting the US Military overseas community.
The PMA program includes (but is not limited to):
Customer loyalty benefits
Fixed Dollar Pricing
Help with Insurance
Guaranteed Inspection through Certified Workshops in Germany
Standard and Extended Warranties
Financing
LIVE Support Chat Service in Germany and Italy
We also offer:
Immediate Delivery
US and German Specification Vehicles
Fair Prices for Trade-Ins
Buying and Selling Service
Car Finding Service
... and much more!
Patriot Military Automobiles has five locations in Germany and three in Italy
Contact us for a great value on a pre-owned car.
On the web
www.patriot-autos.net
Email:
contact@patriot-autos.net
Patriot Military Automobiles GmbH is more than just your destination for Pre-Owned Vehicles, Tax-Free. We've also got RENTAL VEHICLES!
We have Volkswagen Golf TDIs on fleet equipped with the following:
Diesel Engine
Automatic Transmission
European Navigation
Cruise Control
Bluetooth
Heated Seats
Heated Mirrors
Automatic Headlights
Dual-Zone Auto Climate Control
60/40 Split Rear Seats
Parking Sensors
...and so much more!
Related Information:
Monthly Rental (3-month minimum)
Insurance included
VAT forms accepted
Pick-up/Drop off at our Kaiserslautern location
Must have a valid Driver's License & Credit Card
Pricing:
€549/month - includes 1000 km
€649/month - includes 1500 km
€749/month - includes 2000 km
*Prices do not include VAT and are subject to change.
Book your Appointment TODAY...
Rental Program
Office: +49 (0)631 8929 3290
Direct: +49 (0)631 8929 32928
Mobile: +49 (0)151 7306 1174

Locations and Contacts
Germany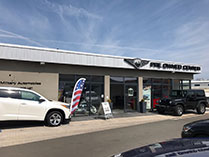 Grafenwöhr
Im Gewebepark 29/30/31
92655 Grafenwoehr

Paul Healy
Jessica Beach

Tel: +49 (0)9641 936800
Fax: +49 (0)9641 9368020
Cell: +49 (0) 171 2786240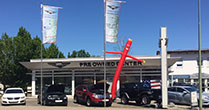 Kaiserslautern
Kaiserstrasse 26
67661 Kaiserslautern

Scott Munday
Dan Carrigan

Tel: +49 (0) 631 89293290
Cell: +49 (0) 152 25872530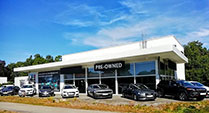 Ramstein
Landstuhler Strasse 80
66877 Ramstein-Miesenbach

Kevin MacFarlane

Tel: +49 (0) 6371 465480
Fax: +49 (0) 6371 465501
Cell: +49 (0) 176 70069570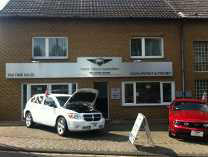 Spangdahlem
Hill Strasse 56
54529 Spangdahlem

Andrew Weed

Tel: +49 (0) 6565 9588710
Fax: +49 (0) 6565 9588711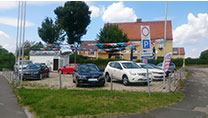 Vilseck
Kürmenther Str. 2
92249 Vilseck

Neil Statz

Tel: +49 (0) 9622 7026280
Cell: +49 (0) 170 9015846
Italy
Aviano
Via Pordenone 40
33081 Aviano

Henry Johnson
Michael Gant

Tel: 0434 677031
Fax: 0434 652279
Cell: 340 364 7009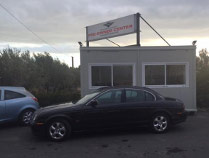 Sigonella
S.P. 105 C. Da Finocchiara
95032 Belpasso (CT)

Tel: 095-6140667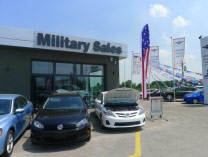 Vicenza
Via Aldo Moro 304
36100 Vicenza

Andrew Howarth
James Skinner

Tel: 0444 502 025
Fax: 0444 301 353
Cell: 334 204 90 70

Car Rental

Germany's No.1 Car Rental Company
Car Sales

Pre-owned cars, locations in Germany and Italy
Car/Vehicle Insurance

Insurance for US Military, BFG and other NATO forces
DoD Contractors/
ID Card Holders - Business & Employment Advice

Business consulting for DOD contractors and ID card holders
Telephone, Internet & Satellite TV Services

Complete satellite installation services; TV over the Internet

High Speed Internet, Satellite TV and Telephone in the KMC Area
Pet Shipping

Pet Transport and Relocation Experts
Shopping

World-famous Christmas village! Huge selection of gifts
Living in Germany

A Guide to Living and Working in Germany
Skydiving

Blue skies and soft landings with tandem jumping
Medical

Dr. Matt Hofmann
TRICARE Preferred Provider
Landstuhl, Germany