USAREUR
• US Army, Europe
USAG Stuttgart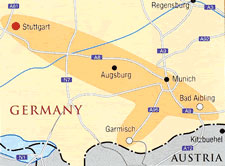 USAREUR has named Stuttgart an enduring location, one that should be around when the current transformation program is complete.
Nestled in the beautiful Swabian region of Southwest Germany, Stuttgart is the state capital of Baden-Württemberg. The city of 593,639 residents boasts highly successful industries (Mercedes and Porsche automobiles are made there), a cosmopolitan downtown, modern shopping malls, an active cultural calendar and abundant woods, parks, and gardens. USAG Stuttgart provides support services at four primary installations; Panzer Kaserne, Patch Barracks, Kelley Barracks and Robinson Barracks, and maintains a presence at the Stuttgart Army Airfield.
Stuttgart and its surrounding towns are filled with shopping opportunities. There is a mall similar to those in the states near Panzer Kaserne and a large downtown shopping district with many shops, restaurants, pubs and bakeries. And this is the place for you if you are a sports or outdoor enthusiast. The city is home to world renown soccer clubs, and is known for its mineral baths, which provide swimming and relaxation for therapeutic and medicinal purposes.
The Stuttgart Planetarium is one of the world's most modern, and the television tower was a pioneering venture. When the tower opened in 1956 it was the first of its kind in the world and since has been copied everywhere from Moscow to Tokyo to Seattle. The observation deck, with a restaurant, can be reached by an express elevator.
For further information check the website at www.stuttgart.army.mil.
Facilities and Services
Sports and Recreation
There are numerous hiking and biking trails in the area. Contact Outdoor Recreation or the Community Family Support Center/ACS for more information. There are numerous swimming pools, both indoor and outdoor, in Stuttgart and the surrounding towns. There is a German-American Wandering Club for those who want to see rural Germany first hand, and the Patch Ski Club offers trips, gatherings and ski lessons.
The Outdoor Recreation Center has a multitude of programs and equipment rental to offer; including camping equipment, skiing equipment, rafts, canoes, bikes and baby joggers.
Fitness Centers are located on Panzer Kaserne, Kelley, Patch and Robinson Barracks. The Panzer center offers wall climbing upon completion of a certification course.
The Stuttgart Golf Course in Kornwesthiem, about 10 miles north of the city, offers 18 holes of championship quality play and is one of the best military courses in Europe. This USAG Stuttgart MWR activity also boasts two practice putting greens and a driving range. Individual clinics are held throughout the year, and group and private lessons are available by appointment. The pro shop carries equipment and clothing, and the club also serves lunch and dinner.
The Galaxy Bowling Center at Panzer Kaserne boasts 24 lanes, a snack bar, playroom for children, birthday room, video game room, bar and slot machines.
Clubs. Community clubs in Stuttgart are located at Kelley, Panzer, Patch and Robinson Barracks. They offer a variety of food services and selected entertainment. Facilities are also available to rent for social occasions and conferences. Contact the club manager for more details.
Multi-Crafts Centers. The Robinson Barracks center offers painting, ceramics, drawing, photography and children's classes. Kelley Barracks has woodworking and crafts workshops, and the Gussy Goose Craft Shop at Patch Barracks has many craft, quilting, and scrapbooking supplies and also offers sewing, quilting and scrapbooking classes. A T-shirt shop and a frame shop are in the Patch Arts and Crafts Center nearby.
Health Services
Quality family care is provided at Patch Barracks, and more specialized care is provided at German hospitals and military hospitals. Health benefits advisors assist with military health problems and are liaisons for patients using host nation health care facilities. The dental clinic provides general dentistry and specialty treatment to authorized individuals. Veterinary Services at Panzer Kaserne include animal disease prevention and control, issuance of health certificates and vaccinations.
Schools
Stuttgart has elementary schools at Patch and Panzer, an elementary/middle school at Robinson and a high school at Patch.
Community Services
The Army Community Service (ACS) center offers various programs and services for soldiers, civilians and family members; parent education classes, financial maintenance classes, relocation information and support, mobilization and deployment support, employment services, Army Emergency Relief (AER) and volunteer programs. Child Development Services provides full service, center-based child care, the Family Child Care (FCC) program, the School Age Services (SAS) program and respite child care for service members in pay grade E-4 and below. Youth Services operates a sports and fitness program for organized seasonal sports. Volunteers are an integral part of every community. Volunteer experience offers great potential for self-fulfillment and may also be reflected on resumes for future job employment.
Chapels
Chapels are located on Panzer, Patch and Robinson Barracks to provide spiritual/ religious services for a multitude of denominations. The Chaplain's Office offers services and religious education in numerous denominations. Your Chapel staff can provide information about them. There is a wide range of Bible study groups, classes and retreats offered by the program.
Scouting
There are active scouting programs for both boys and girls. They advertise and recruit members through the schools, libraries, youth activity centers, media and various other institutions.
Better Opportunities for Single Servicemembers (BOSS)
This program is designed to bring single members' quality of life in line with their married counterparts. Billets afford them more living space so they may decorate to their own tastes and include amenities such as floor kitchenettes, private facilities, fitness equipment and government furnishings. It also involves single personnel in recreational travel and community help programs.
Shopping
Stuttgart Shoppers have the advantage of the 140,000 square foot "Mall for All" at Panzer Kaserne. It has parking space for 640 cars, an auto service station, shoppettes, military clothing sales, video stores, Class Six beverage shops, food courts, laundromats, alterations shops, movie theater and barber and beauty shops. There is also a commissary at Panzer, and other commissaries at Patch and Kelley. AAFES gas stations are located at Kelley and Patch.
Patch Library
The Patch Library serves as the regional reference center. It has a collection of approximately 70,000 items including fiction, non-fiction, videos, DVDs, CDs and recorded books. It also has an extensive reference collection and a large children's collection. There is also a smaller library at Robinson Barracks.
United Service Organization (USO)
The United Service Organization (USO) on Panzer Kaserne provides free tours of the Stuttgart area, cooking classes and international tours for a fee. They also have local cultural information, ticket information, and local maps and brochures of sites and interest.
Music and Theater
The Stuttgart Entertainment Branch at Kelley Barracks offers live productions, a variety of Adult Classes, including Acting and Directing, and a Summer Theatre Workshop for youth as well as Youth Classes throughout the year.
Housing
Stuttgart has 1706 on-post Army Family Housing quarters. The housing units are located in four separate areas around Stuttgart. Patch Barracks and Robinson Barracks are the two largest areas with approximately 60 % of total housing assets. The remaining units are located on Panzer Kaserne and Kelley Barracks. All areas are within 30 minutes driving time of each other.
Transient Lodging
The Swabian Inn on Patch Barracks, the Kelley Hotel on Kelley Barracks and the Hilltop Hotel on Robinson Barracks have been providing a comfortable alternative to hotels on the economy. However, a new $38 million hotel, now under construction at Panzer Kaserne, will open soon and when it does the Swabian Inn and Hilltop Hotel probably will no longer operate.
The Army Post Offices (APOs)
The Army Post Offices (APOs) at Panzer, Robinson, Kelley and Patch are full-service facilities providing parcel service and transport of all classes of mail from priority to express. They also transport mail for free from APO to APO when "MPS" is written in the upper right corner of envelopes and packages.
Banking
There are two banking establishments on post. The Community Bank has branches on Panzer Kaserne, Kelley and Robinson Barracks. Service Credit Union is also located on Patch Barracks.
Auto Craft Shop
The Auto Craft Shop at Panzer Kaserne offers assistance in performing automotive maintenance and repair. Equipment, tools and trained mechanics make everything, from charging a battery to major overhauls, possible at great cost savings.

Car Sales

Pre-owned cars, locations in Germany and Italy
Car/Vehicle Insurance

Insurance for US Military, BFG and other NATO forces
DoD Contractors/
ID Card Holders - Business & Employment Advice

Business consulting for DOD contractors and ID card holders
Pet Shipping

Pet Transport and Relocation Experts
Getting Married in Denmark

Marry Abroad Simply
Living in Germany

A Guide to Living and Working in Germany