Indonesia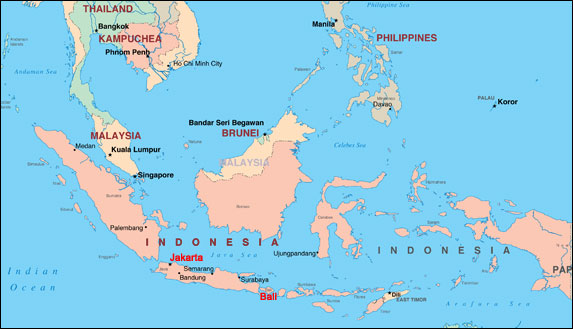 Indonesia, with 17,508 islands, is the world's largest archipelagic state. Its territory includes the Malacca Strait, one of the world`s busiest sea passages. The U.S. Navy is helping develop a radar system there. Following three and a half centuries of Dutch colonialism, it secured its independence after World War II.
The Indonesian currency is the rupiah, worth about 9,300 to the U.S. dollar. It comes in banknotes of 100,000, 50,000, 20,000, 10,000, 5,000 and 1,000 rupiahs, and in 500-, 200-, 100-, 50- and 25-rupiah coins.
PORTS OF CALL
Jakarta
Jakarta, on the northern coast of West Java, is the center of government, commerce and industry. When U.S. Navy ships visit Jakarta, they are welcomed with flowers and fruit, while traditional dancers, fire-breathers and other performers entertain the crew on the pier.
Sailors on liberty sample local fare in exotic restaurants and enjoy the Kawasan Wisata Ancol Park, with sea and freshwater aquariums, swimming pools, an artificial lagoon for fishing, boating, bowling, an assortment of nightclubs, restaurants, a steam-bath and massage parlors. One of the most interesting tourist attractions of Jakarta is the "Beautiful Indonesia in Miniature Park," an open-air museum that portrays the variety of cultures and architectural forms found within the many islands of the republic.
Bali
Bali, a diamond shaped island off the tip of Java, has long been sort of a model in the public mind of the idyllic South Seas. It's a place of spectacular volcanic mountains and lakes, rice terraces, ancient temples and palaces, all surrounded by sparkling coral seas. Tourists flock to it for its traditional dance and theater and elaborate religious festivals.

Car Sales

Pre-owned cars, locations in Germany and Italy
Car/Vehicle Insurance

Insurance for US Military, BFG and other NATO forces
DoD Contractors/
ID Card Holders - Business & Employment Advice

Business consulting for DOD contractors and ID card holders
Pet Shipping

Pet Transport and Relocation Experts
Getting Married in Denmark

Marry Abroad Simply
Living in Germany

A Guide to Living and Working in Germany