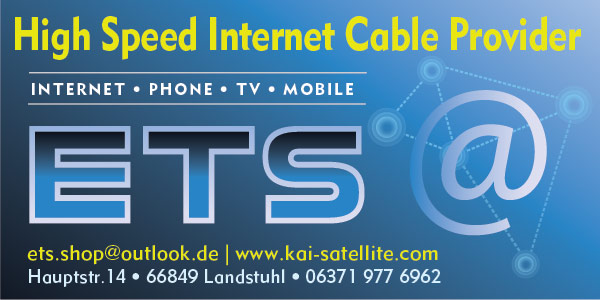 Welcome to ETS-Elektrotechnischer Service
Competence, experience and knowledge in the fields of high-speed Internet, satellite TV and land lines and cell phones are the strengths of the ETS-Elektrotechnischer Service.
We are a independent retailer for all of your TV, Internet, land line and mobile phone needs. We offer fair and transparent prices.
Take a look around our website or contact us and find out what we can do for you. For any questions not answered by our website please feel free to contact us at any time or stop by in our shop.
We can help you with all of the Internet and telephone providers in Germany. We are a independent retailer!!
Deutsche Telekom
Kabel Deutschland
Vodafone
1&1
Quix
O2
and others
We are your partner when it comes to installing your Satellite TV. We work for private households as well as for corporate clients and can offer you the following specialist areas:
AFN
Free Sat
Sky Germany
Whether it's a complete reinstallation, expansion or maintenance we make a point to advise you in advance. Only then can we figure out where there is a real need and what we can do for you.
ETS-Elektrotechnischer Service
Hauptstr.14
66849 Landstuhl
06371-977 69 62

Car Rental

Germany's No.1 Car Rental Company
Car Sales

Pre-owned cars, locations in Germany and Italy
Car/Vehicle Insurance

Insurance for US Military, BFG and other NATO forces
DoD Contractors/
ID Card Holders - Business & Employment Advice

Business consulting for DOD contractors and ID card holders
Telephone, Internet & Satellite TV Services

Complete satellite installation services; TV over the Internet

High Speed Internet, Satellite TV and Telephone in the KMC Area
Pet Shipping

Pet Transport and Relocation Experts
Shopping

World-famous Christmas village! Huge selection of gifts
Living in Germany

A Guide to Living and Working in Germany
Skydiving

Blue skies and soft landings with tandem jumping
Medical

Dr. Matt Hofmann
TRICARE Preferred Provider
Landstuhl, Germany